Make-Ahead Kale and Sweet Potato Burritos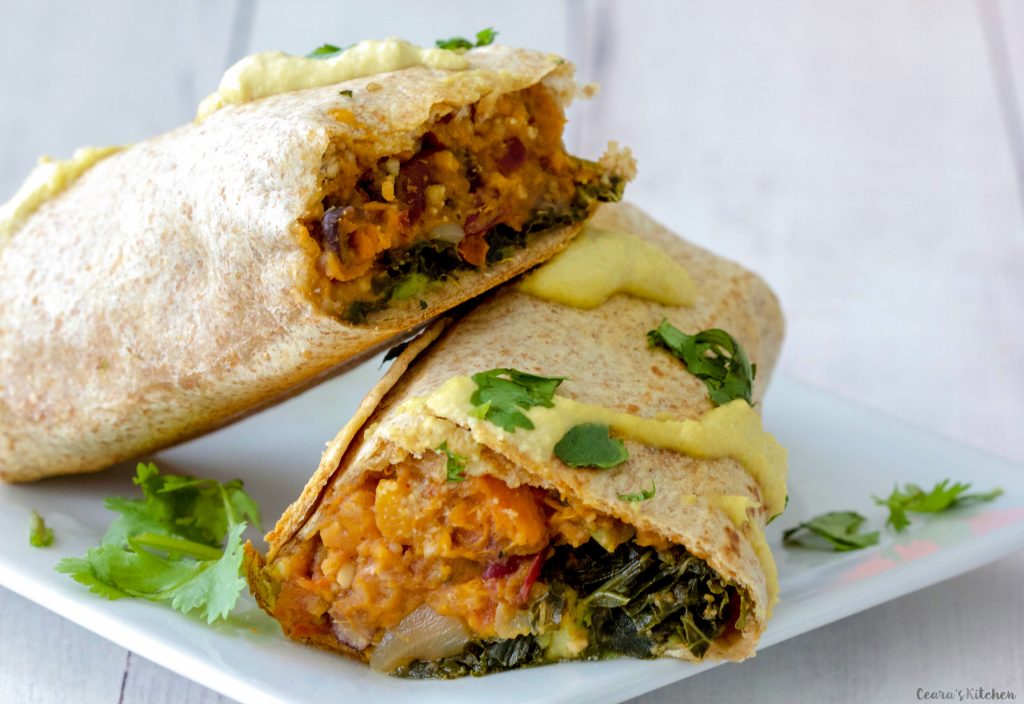 12 tortilla shells (10 inch)
2 onions, diced
5 garlic cloves,
½ tbsp mustard powder
½ tbsp smoked paprika
1 tbsp cumin powder
1 tbsp chili powder
¼ - ½ tsp cayenne pepper
3 tbsp soy sauce
1 can fire roasted green chilis (4 oz. can, I use Trader Joe's)
1 can pinto beans, black beans, and kidney beans (*drained and rinsed - about 4½ cups beans, 14 oz. can each)
1½ - 2 cups vegetable broth or water (+ extra for sauteing)
4½ cups mashed sweet potato
3 tbsp nutritional yeast
4 heaping cups kale, chopped
5-6 drops hot sauce
3 avocados, sliced
3 stalks green onion, chopped
½ cup cilantro, chopped
Preheat oven to 424 degrees F (220 degrees C). Line a casserole dish with parchment paper or spray with oil.
In a large deep pan, saute onions and garlic with a dash of oil or vegetable broth until soft. Stir in the spices (mustard powder, paprika, cumin, chili powder, cayenne pepper), soy sauce, and fire roasted peppers.
With the back of a wooden spoon (or a potato masher), mash beans into the onion mixture. Add 1½ cup of vegetable broth and mashed sweet potato to the pan. Stir and cook for 3-4 minutes. Add Taste test and add salt, pepper, and additional spices to taste.Add additional water if the mixture becomes too thick.
While the sweet potato mixture is cooking. in a medium pan, saute kale with the nutritional yeast and hot sauce until the kale is lightly cooked.
Place a large tortilla on a plate. Add ½ cup of the sweet potato mixture, ¼ cup of kale, a couple slices of avocado, cilantro and green onion into each burrito. Tightly roll the tortilla into a burrito. Place "seam-down" on the pan. Continue until you use all the tortillas and sweet potato mixture.
Bake for 30 minutes until light golden brown on top. Drizzle with vegan cheese sauce, garnish with cilantro and green onion.
Leave to cool, wrap and place in a freezer safe container to freeze.
1) Use gluten-free tortilla wraps for these burritos to be gluten-free.
Recipe by
Ceara's Kitchen
at https://www.cearaskitchen.com/kale-sweet-potato-burritos-vegan/