Mango Salsa with Lemon-Lime Vinaigrette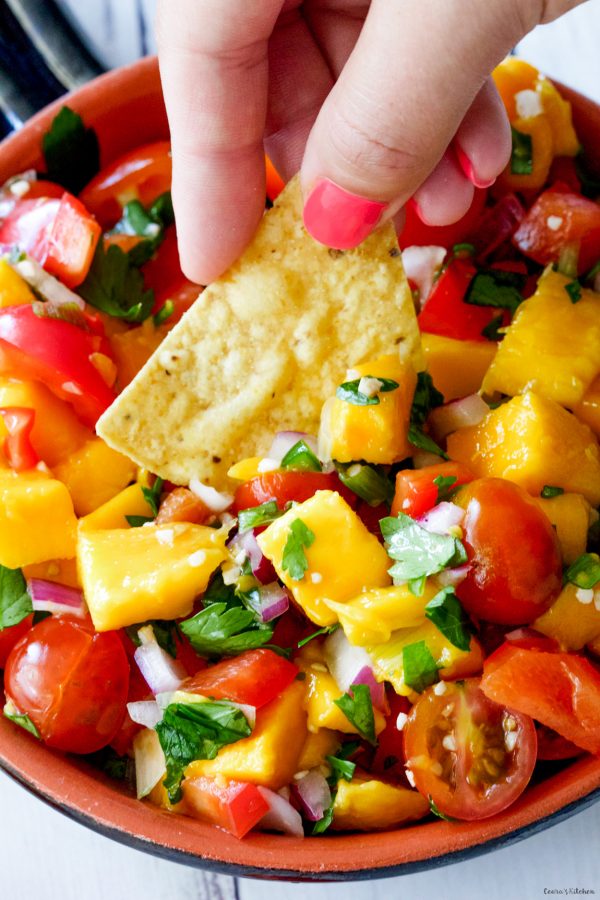 3 ripe mangos
1 red pepper, chopped
1 cup cherry tomatoes, cut in half/quartered
1 jalapeno, seeds removed and finely chopped
3 green onions, finely chopped
½ cup cilantro or parsley, finely chopped
2 cloves garlic, minced
¾ cup red onion, finely chopped
¼ cup lime juice
3 tbsp lemon juice
½ tsp sea salt
Cut the mango into half and make 5 cuts both lengthwise and horizontally into the mango (see photo for reference). Scoop out the insides of the mango into a large bowl. Chop and prepare the vegetables and add to the bowl.
Mix the lemon and lime juice together in a small bowl with a pinch of sea salt.
Pour the lemon-lime dressing over the salsa. Toss until thoroughly combined! Serve as a side salad or with tortilla chips as an appetizer. Cover and refrigerate to store. Enjoy!
Recipe by
Ceara's Kitchen
at https://www.cearaskitchen.com/mango-salsa/