Vegan BLT (Better than Bacon, Lettuce and Tomato Sandwich)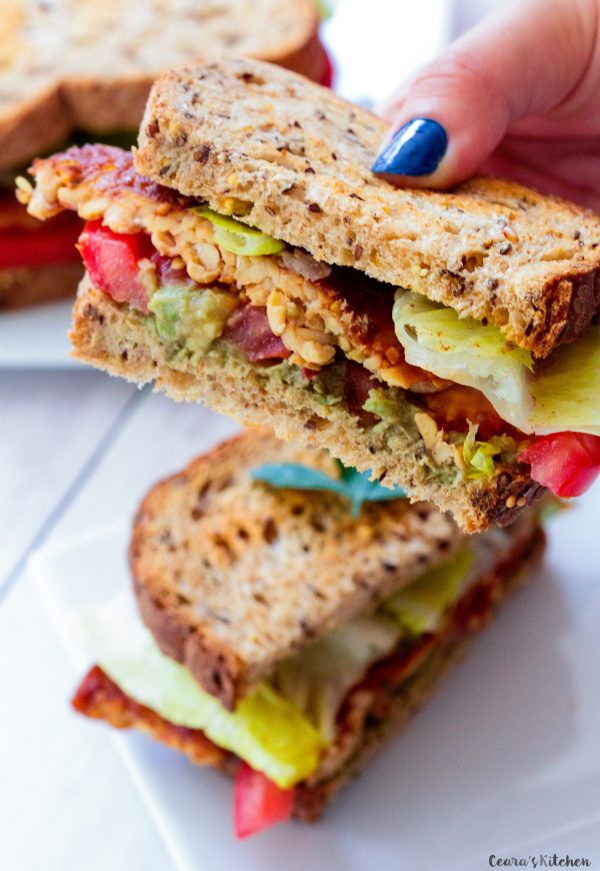 6 strips tempeh bacon
4 pieces bread
1 large avocado
½ - 1 tbsp lemon juice
3-4 pieces fresh lettuce
1 large ripe tomato
Pinch sea salt
Black pepper
2-3 drops Hot sauce
Prepare the tempeh bacon. Find the recipe for my tempeh bacon here!
Toast your bread until it is nice and crispy. Note: choose a hearty bread with lots of seeds!
In a small bowl, mash avocado with ½ tbsp lemon, sea salt, dash of pepper and hot sauce. Taste and add additional lemon (I use the entire tablespoon), salt, pepper and hot sauce to taste.
Mash the avocado on one side of the toast. Place sliced tomatoes, 3 strips of bacon, and lettuce on top of the avocado.
Place the second piece of toast on top to form a sandwich. Cut down the middle. Devour!
1) Use gluten-free bread and tempeh for this recipe to be gluten-free.
Recipe by
Ceara's Kitchen
at https://www.cearaskitchen.com/vegan-blt-bacon-lettuce-tomato-sandwich/