Aquafaba Dairy-Free Coffee Ice Cream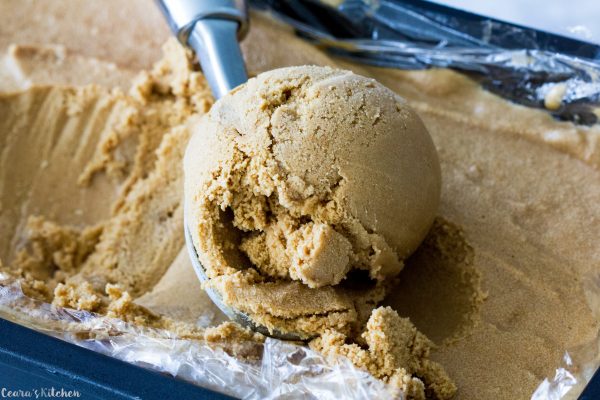 3 cups full fat coconut milk (2 cans)
¼ cup aquafaba (liquid from chickpea can)
2 tbsp vanilla extract
1 cup coconut sugar
¼ cup instant coffee granules
¼ - ½ tsp sea salt
Place coconut milk cans in the fridge overnight.
In a large bowl (or KitchenAid), whisk aquafaba mixture until fluffy and soft peaks appear.
Add the coconut milk, vanilla extract, coconut sugar, and instant coffee to the large bowl. Fold into the aquafaba mixture until combined. Taste test the mixture and add up to ½ tsp of sea salt, if necessary. The sea salt brings out the sweetness in the coconut sugar. You will not need it if your aquafaba came from a can with salted chickpeas.
Add the mixture to your (frozen - see note) ice cream maker and mix for about 15-25 minutes until your ice cream turns into a soft serve consistency (see photo). Do not over-mix (if you notice your ice cream has begun to melt it is time to freeze it) or else your ice cream will become icy and will not be as creamy.
Scoop ice cream into a glass dish (or loaf pan lined with parchment paper/plastic wrap), cover and freeze for an hour or two until the ice cream is completely frozen. Scoop onto an ice cream cone, garnish with coconut sugar and instant coffee.
1) Use only full-fat coconut milk in this recipe. Low-fat coconut milk will make icy (and not creamy) ice cream.
2) Make sure that your ice cream maker bowl is completely frozen before using it to make ice cream. It should be kept in the freezer overnight and there should not be any sloshing sound when you pick it up.
3) For the perfect ice cream scoop, take the ice cream out of the freezer and leave to soften for 2 minutes. Run your ice cream scoop under warm water and scoop by pressing hard into the ice cream - this guarantees a perfect scoop every time!
Recipe by
Ceara's Kitchen
at https://www.cearaskitchen.com/aquafaba-dairyfree-coffee-ice-cream/