Vegan Mexican Corn on the Cob (with Avocado)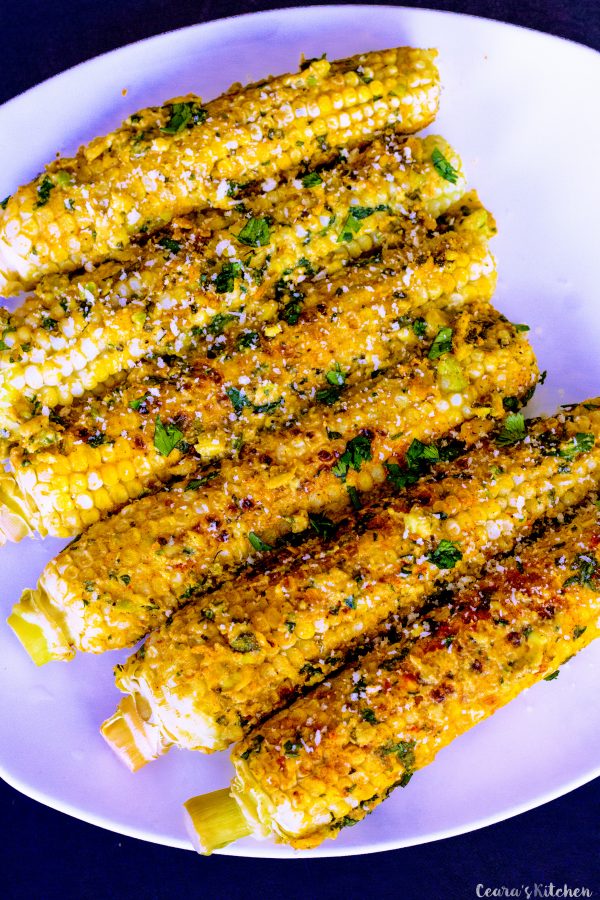 6 corn cobs
½ avocado
2 cloves garlic, minced
3 tbsp fresh cilantro, finely chopped (+ extra for garnish)
2 tbsp lime juice
1 tbsp water
2 tbsp nutritional yeast
½ tsp smoked paprika
¼-1/2 tsp cayenne pepper
Sea salt & pepper to taste
3-4 Splashes hot sauce
2 tbsp panko breadcrumbs (optional)
2 tbsp chopped cilantro
1 tsp smoked paprika
Prepare and heat the grill/bbq.
While the grill is heating up, in a medium size bowl, mash together the avocado with the garlic, cilantro, lime juice, water, nutritional yeast, smoked paprika, ¼ tsp cayenne, salt and pepper. Taste and hot sauce and add additional salt, pepper and cayenne to taste.
Grill the corn for 10 minutes until the kernels are tender and there are grills marks on the corn.
Place the roasted corn on a deep plate. Spread the avocado mixture on the corn and lightly toss until the corn is coated with the avocado mixture.
Garnish with panko, smoked paprika and cilantro.
Alternative No BBQ Method: Fill a large pot with water until it is about ¾ of the way full. Add the cobs of corn to the pot. Bring the water to a boil and cook for 8-10 minutes until the corn is tender. When the corn is cooked, grill it in a cast iron skillet to get the roast marks. Spread the avocado mash over the corn and garnish.
Recipe by
Ceara's Kitchen
at https://www.cearaskitchen.com/vegan-mexican-corn-cob-avocado/