5-Ingredient Vegan Biscuits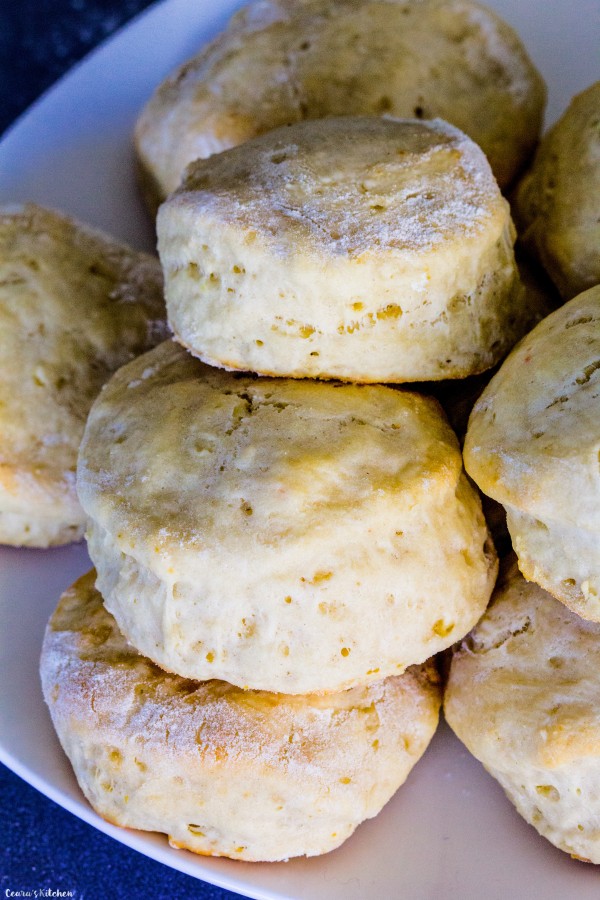 2 - 2¼ cups unbleached all-purpose flour or whole wheat pastry flour* (see note)
3 tsp baking powder
½ tsp sea salt
1 tbsp cane sugar or regular sugar
1 tbsp vinegar
1¼ cup coconut milk (full fat and cold)
2 tsp herbes de provence
3 tsp chives
1 tsp garlic powder
1 tsp onion powder
½ tsp mustard powder
Preheat oven to 450F/230C.
Mix together flour, baking powder, sea salt and cane sugar in a medium-size bowl. Also, mix in any "add-ins" at this step (i.e. herbs, garlic powder, etc.).
Mix together coconut milk and vinegar in a small-size bowl. If your coconut milk has lumps in it, blend it to make it creamy smooth. Your coconut milk should be cold for the fluffiest biscuits possible!
Make a well in the middle of the dry ingredients and slowly pour the milk into the well. Mix with a spatula until just combined. The dough will be a bit sticky but still pliable. Do not overmix the dough or else the biscuits will be tough. Add additional flour by the tablespoon (see note below) if your dough is too sticky.
Flour your hands and dust the countertop with flour. Pat the dough out until it is about ¾ inch thick and cut out 8 biscuits (using a lightly floured cookie cutter or the rim of a glass). Pat out any corners or unused dough and cut until you have used up all your dough.
Transfer the biscuits to a parchment-lined baking sheet. Brush with coconut milk and sprinkle with flour. Bake for 12 to 15 minutes until fluffy and slightly golden brown. Remove from oven and let cool slightly before transferring to a plate.
1) Depending on the brand of flour and the humidity in the air, your dough may be a bit stickier. The dough should be a bit sticky but not too wet or sticky. Mix the dough and if it is still sticky add up to ¼ cup of extra flour (by the tablespoon). I usually only need 2 cups of flour but you made need the additional ¼ cup.
2) Use cold and full fat coconut milk for the fluffiest biscuits possible. I like to refrigerate my coconut milk overnight before using it in this recipe and then blend the coconut milk so it is creamy smooth before using in the biscuits.
Recipe by
Ceara's Kitchen
at https://www.cearaskitchen.com/favorite-vegan-biscuits/