Vegan Strawberry Shortcake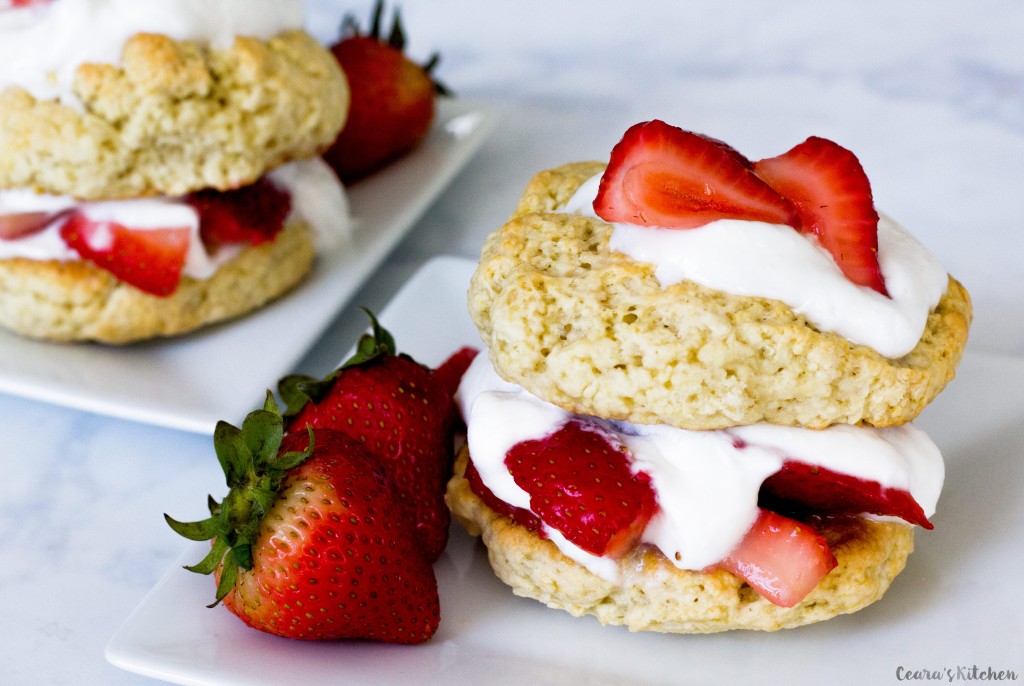 2 cups unbleached all-purpose flour
3 tsp baking powder
½ tsp sea salt
⅓ cup cane sugar (blended into a fine sugar)
1 tbsp lemon juice
1 cup coconut milk (full fat and cold)
½ tsp vanilla extract
2 tbsp cane sugar (blended into a fine sugar)
Coconut cream (cold, from one can of coconut cream or coconut milk - see note)
1 pound strawberries
2 tbsp sugar
1 tbsp lemon juice
Preheat oven to 450F/230C.
Strawberries: Cut strawberries into quarters. Mix in a medium-size bowl with sugar and lemon juice. Cover and refrigerate while preparing the rest of the ingredients.
Shortcake: Mix together flour, baking powder, sea salt and cane sugar in a medium-size bowl. Mix together coconut milk and lemon juice in a small-size bowl. If your coconut milk has lumps in it, blend it to make it creamy smooth. Your coconut milk should be cold for the fluffiest biscuits possible!
Make a well in the middle of the dry ingredients and slowly pour the milk into the well. Mix with a spatula until just combined. The dough will be a bit sticky but still pliable. Do not overmix the dough or else the biscuits will be tough.
Flour your hands and dust the countertop with flour. Pat the dough out until it is about ¾ inch thick and cut out 8 biscuits (using a lightly floured cookie cutter or the rim of a glass). Pat out any corners or unused dough and cut until you have used up all your dough.
Transfer the biscuits to a parchment-lined baking sheet. Bake for 12 to 15 minutes until golden brown. Remove from oven and let cool slightly before transferring to a plate.
Whipped Coconut Cream: Scoop the thick layer of coconut cream out of the can. Place in a mixing bowl with sugar and vanilla. Whisk with an electric mixer for a couple minutes until soft peaks form (see photo).
Assemble shortcake: Layer one large scoop of strawberries and coconut cream on top of the biscuit. Place a second biscuit on top. Garnish with additional coconut cream and strawberries. Enjoy!
1) Use cold coconut milk for whipped coconut cream and in the biscuits. I like to refrigerate my coconut milk overnight before using it in this recipe.
2) I like to use Trader Joe's coconut cream or Thai Kitchen coconut milk for best results in the coconut whipped cream.
3) Shortcakes keep in the fridge for one day. Lightly cover and refrigerate to store.
Recipe by
Ceara's Kitchen
at https://www.cearaskitchen.com/vegan-strawberry-shortcake/