Simple Peanut Soba Noodles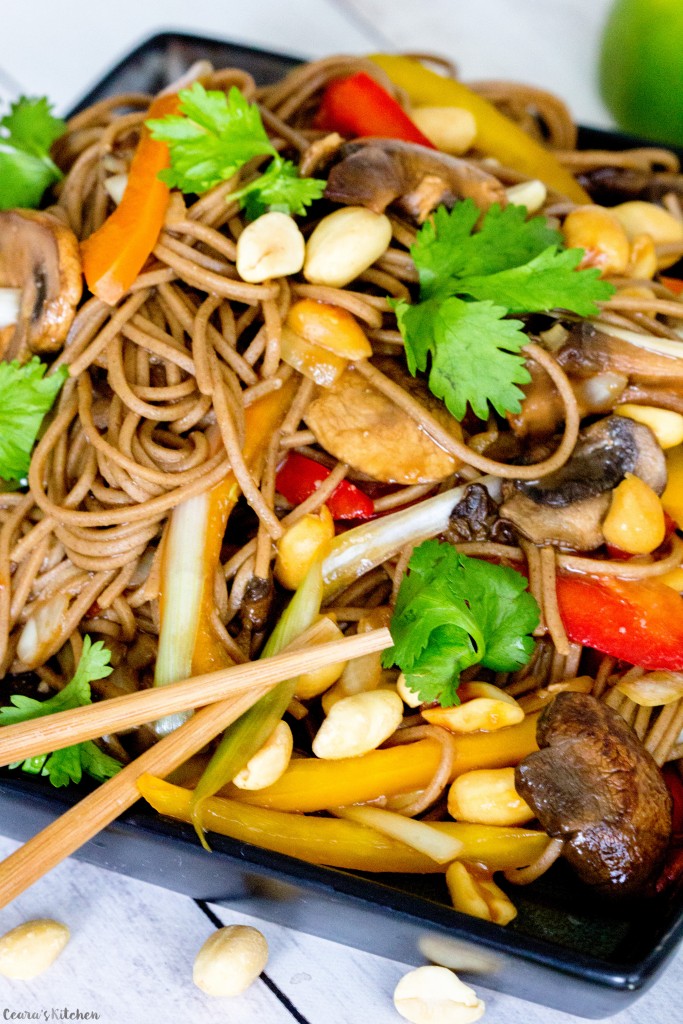 1 box soba noodles
6 cups cremini mushrooms, chopped
3 cloves garlic, minced
1 white onion, thinly sliced lengthwise
4 scallions, thinly sliced lengthwise
1 red, yellow and orange pepper, thinly sliced lengthwise
1 cup roasted peanuts, unsalted
½ cup frozen corn (optional)
½ cup cilantro, chopped
¾ cup vegetable broth
¼ cup soy sauce
1 tbsp apple cider vinegar
2 tbsp lime juice
2 tbsp maple syrup
2 cloves garlic, minced
1 tsp ginger, minced
¾ tsp mustard powder
3 - 6 dashes hot sauce
Pinch chili flakes (optional)
Bring a large pot of salted water to a boil. Cook soba noodles according to the directions on the box until they are "al dente" (you do not want them too soft because they will soak up some of the sauce after cooking).
In a large pan, over medium-high heat saute mushrooms with garlic, sea salt and pepper in a couple splashes of water or oil (if using) until the mushrooms are lightly cooked.
In a medium-size bowl, whisk together all the Tangy Peanut Sauce ingredients (vegetable broth through to hot sauce). Set aside.
When the noodles are cooked (and drained), add the noodles to a large bowl. Pour the sauce over the soba noodles. Add the vegetables (mushrooms, sliced vegetables, and optional corn), roasted peanuts, and cilantro to the bowl. Lightly toss until the noodles and vegetables are well coated with the sauce. Taste and add additional hot sauce to taste.
Garnish with roasted peanuts, fresh cilantro and chili flakes. Enjoy warm right away or leave to cool and serve cold as a salad.
1) If you require this recipe to be gluten free, double check that your soba noodles are made with 100% buckwheat flour and certified gluten free.
Recipe by
Ceara's Kitchen
at https://www.cearaskitchen.com/vegan-peanut-soba-noodles/