Vegan Avocado Pesto Pasta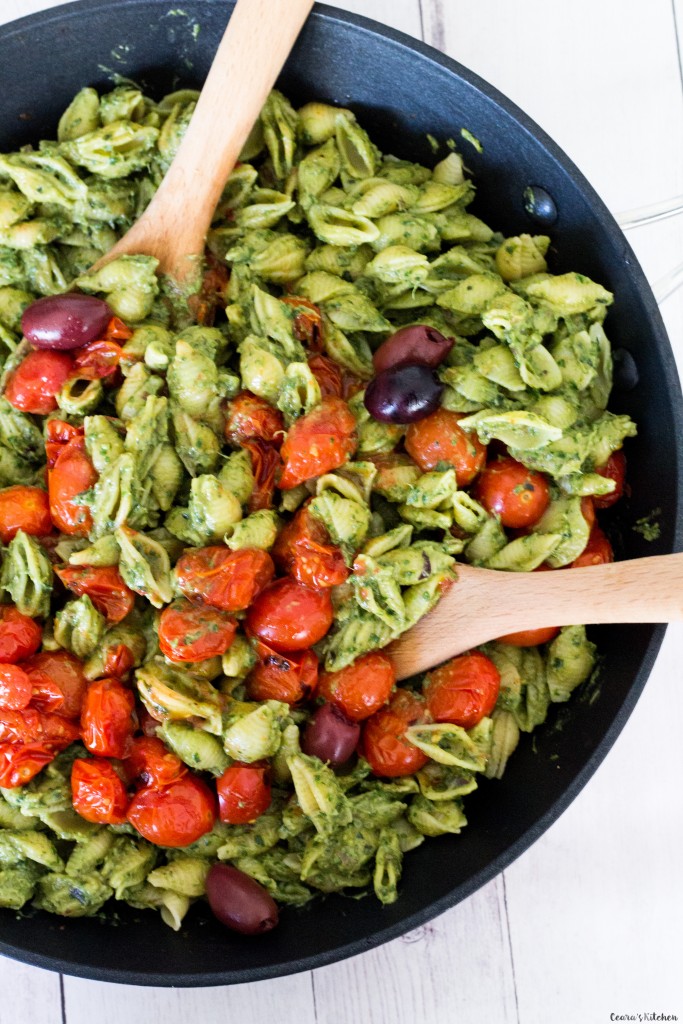 1 box pasta
3 heaping cups cherry tomatoes
1 avocado, large
3 cloves garlic
Small handful cilantro (optional, about ¼ cup)
2 large handfuls basil (1 cup packed)
¼ cup kalamata olives, pit removed
2-3 tbsp lemon juice
2 tbsp olive brine
1 - 2 tbsp nutritional yeast (optional)
Sea salt and pepper to taste
Bring a large pot of salted water to a boil. Cook pasta until al dente while preparing the burst cherry tomatoes and pesto sauce.
Warm a large pan over medium-high heat. Add the cherry tomatoes to the pan with sea salt and pepper. Leave the tomatoes to cook in the pan for two minutes and then toss them lightly. The tomatoes will begin to "burst" over the high heat.
Prepare the pesto sauce by blending together all of the pesto ingredients (avocado through to nutritional yeast). Taste and add additional lemon juice, nutritional yeast, salt, and pepper to taste.
Add the pasta to a large bowl and toss with the pesto sauce and burst cherry tomatoes. Garnish with additional basil and serve.
Leave out the cilantro if you are not a fan of cilantro in recipes.
Recipe by
Ceara's Kitchen
at https://www.cearaskitchen.com/vegan-avocado-pesto-pasta/