Buttermilk Vegan Cornbread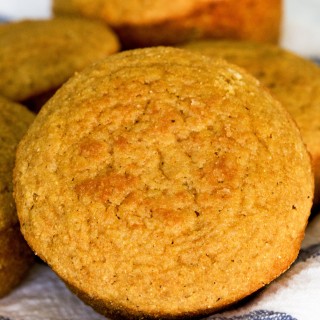 1 cup whole wheat pastry flour (or all purpose flour)
1 cup corn meal
⅓ cup cane sugar
1 tbsp baking powder
½ tsp sea salt
1 cup almond milk
1 cup apple sauce (no sugar added)
1 tbsp apple cider vinegar
¼ cup maple syrup
Pre-heat oven to 350F (175C). Lightly oil a muffin pan with coconut oil (or line with muffin liners).
In a large bowl, combine dry ingredients (flour, corn meal, cane sugar, sea salt and baking powder) and whisk.
In a medium bowl, whisk together wet ingredients (almond milk, apple sauce, apple cider vinegar and maple syrup).
Pour the wet ingredients into the dry ingredients. Whisk together.
Scoop ¼ cup of the batter into each muffin cup. Bake for 20-22 mins until an inserted toothpick comes out clear. Leave to cool for 5 minutes before removing from the pan. Serve with maple syrup and berries for breakfast and warm with dinner for an appetizer.
1) Replace almond milk with your favorite non dairy milk for this recipe to be nut free
2) Make sure that you use corn meal and not corn starch. I use Bob's Red Mill's corn meal in this recipe.
3) Line with muffins liners to keep this recipe oil-free.
Recipe by
Ceara's Kitchen
at https://www.cearaskitchen.com/buttermilk-vegan-cornbread/