Gluten Free Vegan Banana Bread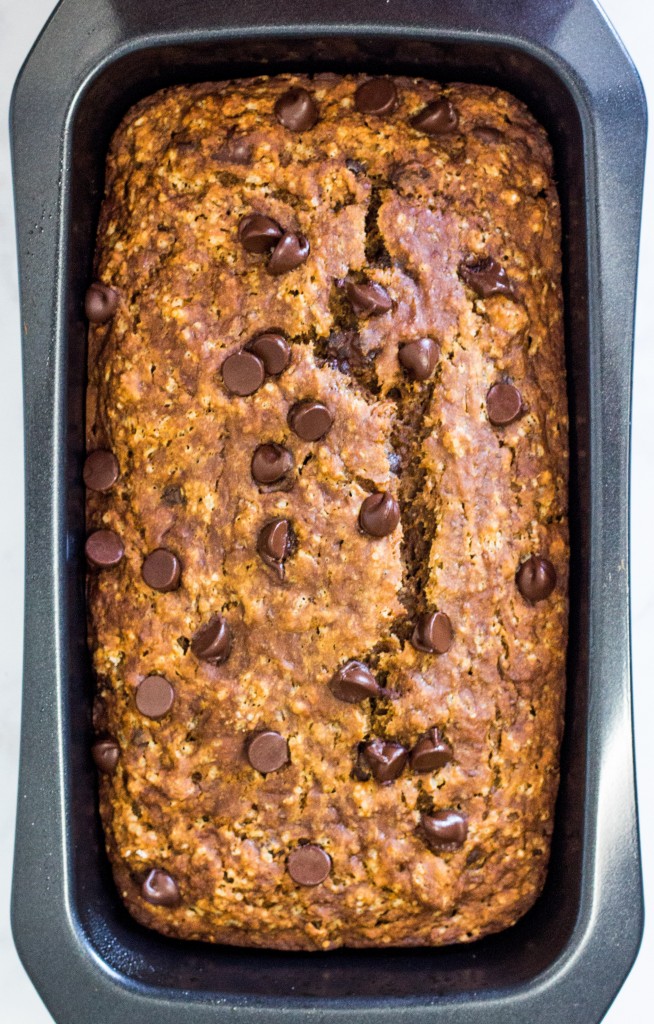 2 cups oat flour
⅓ cup tapioca starch
½ cup cane sugar
3 tsp baking powder
½ tsp sea salt
1 tsp cinnamon
Pinch nutmeg
½ cup chocolate chips (+ extra for sprinkling on top)
1 chia egg (1 tbsp chia seed + 3 tbsp water)
3 large ripe bananas (1¼ cups)
⅓ cup almond milk
¼ cup maple syrup
2 tbsp unsufured molasses
2 tbsp apple cider vinegar
2 tsp vanilla extract
Preheat oven to 350F. Spray a loaf pan with non-stick cooking spray or lightly grease with coconut oil.
Mix chia seeds and water together in a medium size bowl. Stir and set aside to leave to thicken.
Combine dry ingredients (oat flor, tapioca starch, cane sugar, baking powder, sea salt, cinnamon, nutmeg and chocolate chips) together in a large bowl until evenly dispersed.
Mash the banana in a small bowl. Give the chia egg a stir. Add the rest of the wet ingredients (mashed banana, almond milk, maple syrup, molasses, vinegar and vanilla) to the medium bowl.
Add the wet ingredients to dry ingredients. Whisk until just combined.
Pour the banana bread bread batter into the loaf pan. Sprinkle additional chocolate chips on top.
Bake for 45-53 minutes until an inserted toothpick comes out clear. Leave to cool for 30 minutes. Slice and eat plain, with nut butter or coconut butter. Enjoy!!
Replace almond milk with soy milk or you favorite (nut free) non dairy milk for this recipe to be nut free.
Recipe by
Ceara's Kitchen
at https://www.cearaskitchen.com/gluten-free-vegan-banana-bread/