Easy Vegan Mac and Cheese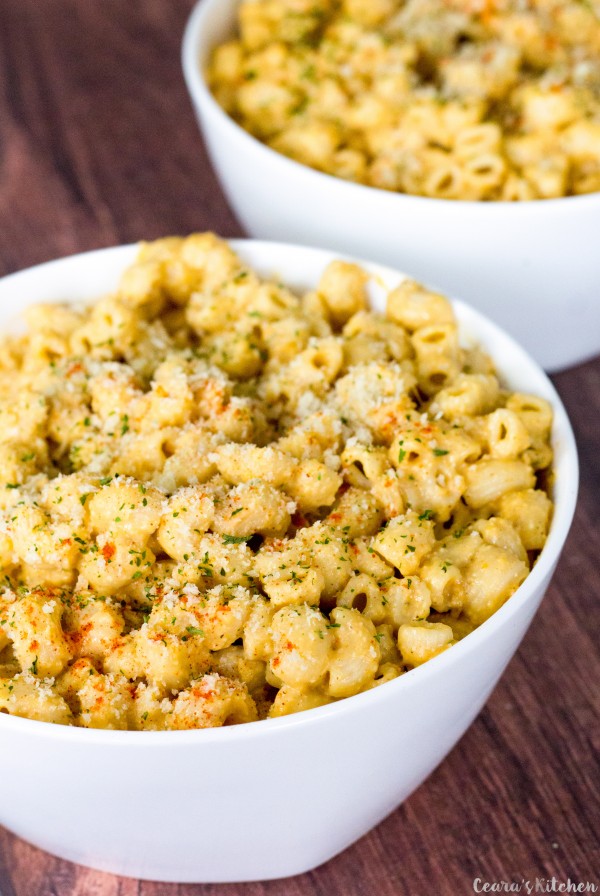 1 box macaroni or shell pasta (500 grams/17.6 oz)
2 medium russet potatoes, chopped (about 2 cups, chopped)
2 medium white onions, roughly chopped
5 cloves garlic
⅓ cup cashews
1 cup butternut squash, frozen and cubed*
1 cup vegetable broth
¼ cup nutritional yeast
1 tbsp tahini
1 tbsp lemon juice
1 tbsp apple cider vinegar
1 tbsp miso paste or soy sauce
1 tsp paprika or smoked paprika
½ tsp mustard powder
¼ tsp nutmeg
pinch yellow curry powder (optional)
5 splashes hot sauce
sea salt and black pepper to taste
Panko breadcrumbs
Smoked Paprika
Parsley
Nutritional yeast
Bring a large pot of salted water to a boil. Cook and drain macaroni while preparing the mac and cheese sauce.
Add potatoes, white onion, garlic and cashews to a large glass microwaveable bowl (I use my pyrex bowl). Add about 3 cups of water, just enough to cover the ingredients, and microwave on high for 3½ minutes (see notes for stove top version). Add the frozen cubed butternut squash. Microwave in 1 minute increments until the potatoes are soft when poked with a fork (the amount of time will depend on your microwave - mine took 6 minutes in total).
Drain the remaining liquid from the vegetables. You can either use a high-speed blender or an immersion blender for blending. Add the vegetable broth to the vegetables and blend until creamy.
Add nutritional yeast, tahini, lemon juice, apple cider vinegar, miso paste (or soy sauce), paprika, mustard powder, nutmeg and hot sauce to the sauce. Blend until are the ingredients are combined. Taste and add additional salt, pepper and hot sauce to taste. Add a pinch of yellow curry powder if you want a bit of a kick!
Pour sauce over cooked macaroni. Stir well. Garnish with panko breadcrumbs, smoke paprika, parsley and nutritional yeast.
1) It is very important to use frozen and cubed butternut squash in this recipe. You can find frozen butternut squash in the freezer aisle of the grocery store. Pumpkin also works in this recipe.
2) Do NOT leave out the hot sauce - it brings the flavors of the sauce altogether.
3) Use smoked paprika instead of regular paprika for a "smokey" mac and cheese.
4) I leave the skins on my potatoes and just make sure to blend the sauce really well. You can peel the potatoes if you prefer.
5) This recipe makes a lot of sauce because I love my Mac and Cheese really saucy! If you prefer a "dryer" mac and cheese - store a bit of the sauce in a sealed container in the fridge. It keeps well and tastes delicious over vegetables the next night for dinner.
6) Stove top (no microwave) version: Follow the directions except boil the potatoes, cashews, onion and garlic over high heat until the potatoes are almost soft. Add the cubed squash and cook until the potatoes are soft when poked with a fork. Drain and follow the rest of the recipe steps.
Recipe by
Ceara's Kitchen
at https://www.cearaskitchen.com/easy-vegan-mac-and-cheese/