Slow Cooker Refried Beans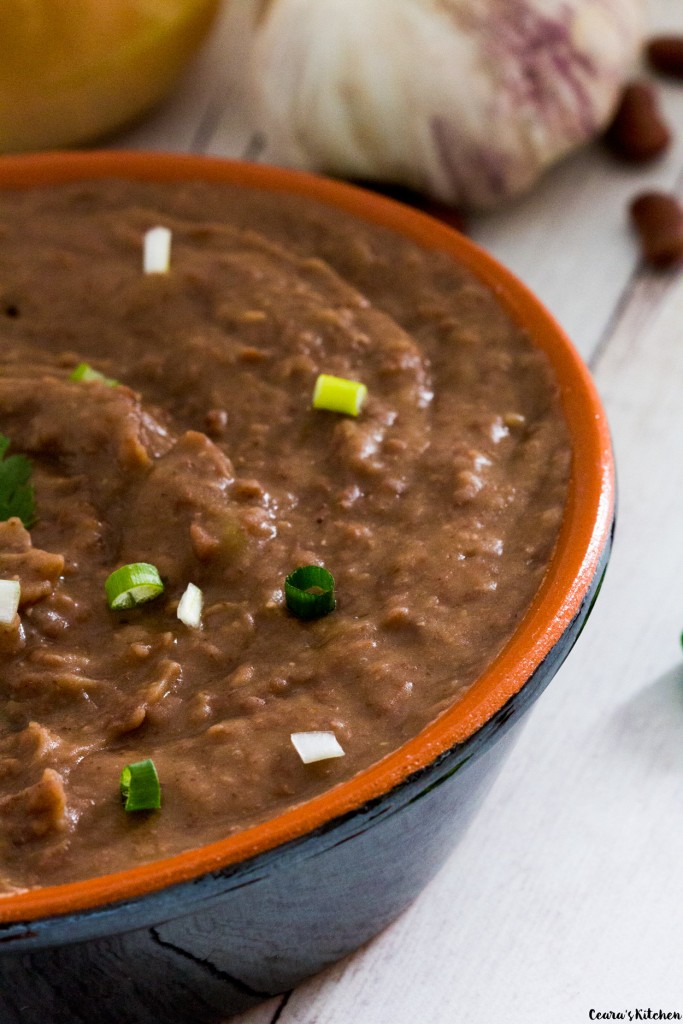 3 cups kidney beans (or pinto beans), dry
1½ white onions, medium
5 cloves garlic
1 tbsp cumin
½ tsp smoked paprika
½ tsp cayenne pepper
1½ tsp black pepper
½ tsp sea salt
1 vegetable bouillon cube
2 bay leaves
8 cups water
Rinse the dried (i.e. not canned) kidney beans. Add the kidney beans to the slow cooker.
Blend (or grate finely) the white onion and garlic.
Add the blended garlic, white onions, spices, bouillon, bay leaves and water to the crock pot.
Turn the crock pot on low for 8 hours until the beans are soft. You will have a bit of water leftover at the end of the cooking time, scoop the extra water out of the crock pot. Do not throw out this water (see note!).The amount of water you scoop out will depend on how thick/chunky you like your refried beans.
Remove the bay leaves from the pot. Blend the beans with an immersion blender or with a potato masher until creamy.
Taste test and add extra salt, pepper, cayenne and cumin to taste.
Serve warm with your favorite Mexican dish or as a warm dip with chips!
The extra water after cooking makes a great bowl of soup with some cubed avocado and tortilla chips!
Recipe by
Ceara's Kitchen
at https://www.cearaskitchen.com/slow-cooker-refried-beans/