Double Chocolate Vegan Donuts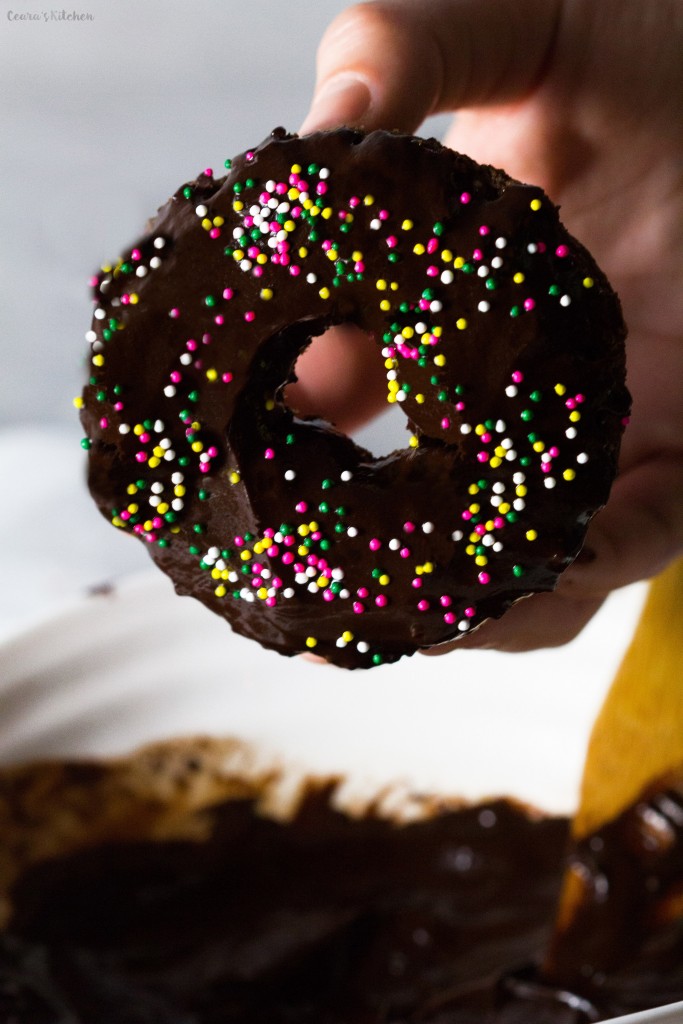 1½ cup oat flour
1 cup hazelnut meal (or almond meal)
4 tbsp tapioca starch
3 tsp baking powder
½ tsp sea salt
1 cup unsweetened applesauce
½ cup aquafaba (chickpea can liquid)
½ cup + 2 tbsp coconut sugar
2 tsp vanilla extract
1 tbsp unsulfured molasses
¼ cup + 2 tbsp cacao powder (or high quality cocoa powder)
½ tbsp instant coffee*
½ cup chocolate chips
½ cup chocolate chips
½ tbsp soya milk
Sprinkles (optional - these sprinkles are vegan and gluten free)
Pre-heat oven to 355F/180C. Lightly grease a donut pan with coconut oil or non-stick cooking spray.
In a medium size mixing bowl, measure and whisk together dry ingredients (oat flour through to sea salt) until evenly dispersed. Note: Lightly fluff your flours with a spoon before measuring them.
Add applesauce, aquafaba, coconut sugar, vanilla extract and unsulfured molasses to a large bowl. Whisk together. Whisk in the cocoa powder until a thick-ish chocolate mixture is formed.
Fold the dry ingredients into the wet ingredients and stir together until a thick batter is formed. You do not have to worry about over-mixing because there is no gluten in the batter. Stir in the chocolate chips.
With a spoon, scoop the donut batter into the donut pan to almost the top of the pan. There is approximately ¼ heaping cup of batter in each donut. Bake for 12- 13 minutes, the amount of baking time with depend on your oven. The donuts are ready when an inserted toothpick comes out almost clear. Leave to cool in pan for 2-3 minutes before removing and transferring to a cooling rack.
While the donuts are cooling, in 15 second increments, melt the chocolate chips and soya milk together in the microwave in a medium size bowl (if you do not have a microwave, use the double boiler method to melt the chocolate chips).
Stir the chocolate sauce. Dip the donuts in the melted chocolate sauce one by one. Smooth out the chocolate with the back of a spoon. Sprinkle the optional sprinkles on top. The chocolate will harden once the donuts have cooled down. Enjoy!
1) Replace coconut sugar with cane sugar or light brown sugar.
2) Feel free to use naturally decaffeinated instant coffee.
3) Make sure all your ingredients are certified vegan and gluten free if necessary.
4) It's really important to leave your donuts to cool in the donut pan for 2-3 minutes before transferring them to a cooling rack so they stay together.
5) You can make your own hazelnut/almond meal and oat flour by blending together oats or whole hazelnuts/almonds in the blender until a fine flour-like consistency is formed.
6) I used a regular size donut pan that makes six donuts at a time. If you are using a mini donut pan, you will have to adjust the baking time to around 7 minutes.
Recipe by
Ceara's Kitchen
at https://www.cearaskitchen.com/gluten-free-vegan-donuts-chocolate/